Searching For Tao Canyon
Searching For Tao Canyon
by Jeremy Schmidt, Art Twomey and Pat Morrow
Published and available through Rocky Mountain Books in 2018 – 7 x 10" hardcover book, 184 pages, 125 photos.
"A stunning book (and Audio Visual presentation) of retro, mind-bending photography that unlocks a hidden world of natural wonder, personal reflection and outdoor adventure."
40 years in the making, the book Searching For Tao Canyon chronicles in razor-sharp Kodachrome images and text a decade's worth of exploration in the subterranean world of the American desert, long before it was Instagrammed to global fame.
In the early 1970s, Canadian photographer Art Twomey stumbled across a narrow crack in the desert floor in northern Arizona. It was a slot canyon, a stone crevasse carved by water and wind. From the rim, he could make out only deep shadows. But from within, having climbed into it, he found an intricate underground fantasy of shape, light, and color that defied ordinary perception.
The photographs he made that day, when published, caused a small sensation in the world of landscape photography, and sent him and co-authors Pat Morrow and Jeremy Schmidt on a decade-long search for the ultimate slot canyon. They called it Tao (meaning simply "The Way" in Chinese) and thought of it more as an archetype than an actual place — an idealized canyon of the mind.
At the time, slots were virtually unknown, their exquisite beauties not yet appreciated. There were no guidebooks, no guided tours, no publicly available satellite images to reveal the locations of these hidden places. Their pursuit was driven by the thrill of discovery, of finding places no one knew and inadvertently becoming forerunners in the sport of technical canyoneering.
In all the years of having their enigmatic canyon photos published in magazines and books worldwide, the authors used pseudonyms for each canyon in order to protect the delicate fluted sandstone features that drew them there in the first place. Searching for Tao Canyon continues that policy. It is not a guidebook. It gives no directions; names no names. And for good reason.
On a recent return visit to the Southwest, Morrow and Schmidt visited some of their old haunts. Many are still wild and unchanged, but one in particular has become a world-famous commercial attraction, drawing a "line dance" of awe-struck visitors every day for nine months of the year. Demand is so strong that the number is capped at 2500 per day, and reservations must be made far in advance.
The book is dedicated to Art Twomey, who first introduced Morrow and Schmidt to canyon country and the slots. Twomey died in 1997.
With this book, the authors hope to build appreciation not for any particular places, but for what the untamed nature of canyon country can teach us, and the need for the public, who find it so alluring, to do everything possible to protect it.
Why now?
"The degree of change we've seen in the region since 1975 is astonishing," says Schmidt. "Canyon country and canyoneering have become popular beyond anything we might have imagined 40 years ago. We've watched that process with mixed feelings, taking some reassurance that much of the region is in protected status of one kind or another — national parks, monuments, wilderness areas, the Navajo reservation, and more. Now, the government-sanctioned attack on national monuments including Bears Ears and Grand Staircase by mining, oil and gas interests warns us that this supposed protection is perilously fragile.
Morrow adds, "In the light of that, we think this book places a marker on the highway of change. Change happened quickly, and is only accelerating. The book is a reminiscence of how it was, and a (fairly gentle!) warning that we can't take the survival of these places for granted."
Searching For Tao Canyon
Mountains: the Sacred and the Profane
This is our most current, and most popular show.
In their multi media presentation, Mountains: the Sacred and the Profane, Pat and Baiba Morrow reflect on three decades of high adventure: from their search for sacred hidden valleys in the Himalaya, Andes, and other far flung mountain ranges to local climbs, hikes and environmental efforts aimed at keeping the mountains wild and free.
The Morrows believe that contemplation of sacred places, whether they are the 6,600m Mt. Kailas in Tibet or Qatmuk (where the spirit of the grizzly bear lives) in the Jumbo Valley of the Purcell Range in British Columbia, can help us appreciate the value of wilderness. This leads to treating the environment with care and respect, and instills pride and a sense of place.
Everest: High Expectations
Pat Morrow will give a slide and video presentation based on Morrow's and Sharon Wood's recently launched eBook, Everest: High Expectations, which reveals the heart breaking, and ultimately triumphant story of Canadian climbing expeditions that captured the attention of Canadians in 1982 and 1986.
The stories and images in the show will be drawn from their formative experiences in the Rockies and abroad during their Everest "apprentice" years, their respective contributions to attempting new climbing routes on the Nepal and Tibet side of the mountain, and reflections on how climbing standards have plummeted on Everest and other crowded iconic peaks in recent years.
Beyond Everest: Quest for the Seven and a Half Summits
Pat's A/V presentation, Quest for the Seven and a Half Summits will describe how, as a non-millionaire, he found the resources to become the first climber to reach and climb the highest peak on each of the seven continents. The logistics and political protocol he pioneered to get himself to Antarctica's highest peak, Mt Vinson Massif, and Australasia's highest, Carstensz Pyramid, paved the way for over 300 others to complete this project to date. The show is based on his best-selling (now out of print) book, Beyond Everest: Quest For the Seven Summits.
Heart of the Himalaya
Heart of the Himalaya reveals the beauty, the wonder and the resilient heart of the people who inhabit the world's loftiest mountains, the 2400 km long Himalayan range. Pat & Baiba's hour long A/V presentation distills decades of travel and immersion in the Himalaya into a celebration of its diverse mountain cultures. On bike, on foot, on climbing expeditions, on assignment to document events and rituals, Pat and Baiba collected their own nomadic vision of being a denizen of the Himalaya. The presentation has its origins in a photo exhibit at the Whyte Museum of the Canadian Rockies that morphed into an eBook. Photos and video clips from Tibet, Nepal, Bhutan, northern India and Pakistan, and China's Xinjiang Uygur and Sichuan provinces.
Torngat Mountains National Park, Northern Labrador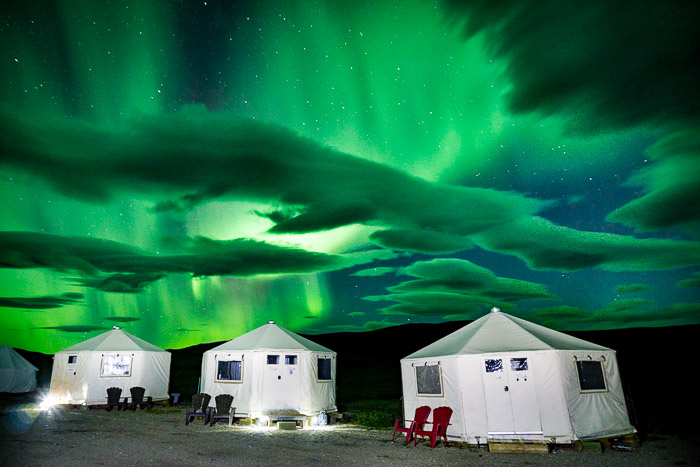 Created in 2005, TMNP is one of Canada's newest national parks, and one of the hardest to reach. This presentation takes the form of a travelogue that gives an historical and contemporary overview of Inuit culture, which leads to the adventure of scouting future hiking routes in the rugged mountains that rise 1600 meters out of the iceberg-tossed North Atlantic ocean. These northern lands are among the most culturally fascinating and environmentally important and sensitive in our country. Our musician friend Ian Tamblyn has plied the coast of Labrador numerous times as an onboard troubadour with Adventure Canada's shipborne tours, and has generated a treasure trove of music. He sent us the album, "The Labrador" which was inspired by journeys of the heart, and I've chosen a song called "Coast of Labrador" to accompany some of the images shot while on assignment in the park. Also, there's a video clip of a throat-singing performance by Inuit artists Evie Mark and Akinisie Sivuaraapik.
In Conrad Kain There Was A Splendid Fire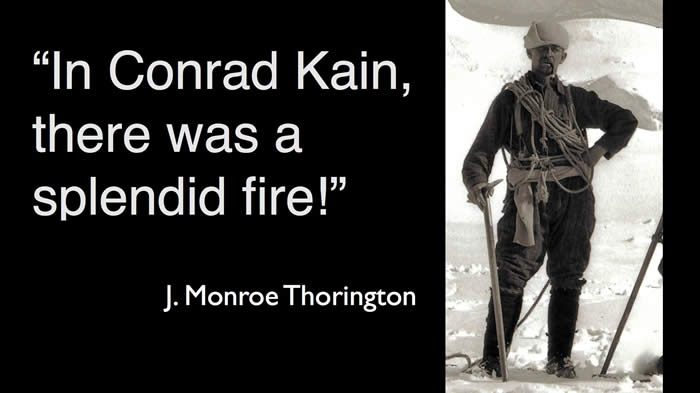 Austrian Conrad Kain served as a guide for nearly 30 years in Europe, Canada and New Zealand, and during that relatively short period, he left a unique and unequalled legacy of mountain exploration and first ascents. In moving through extreme landscape, he displayed a creativity that stands alone not just in the annals of Canadian mountaineering, but in that of the world climbing scene in the early 20th century. Yet, he lived a simple, independent life and always saw himself as a man of nature.
In this A/V show we'll follow in Kain's footsteps up some of his iconic peaks, while introducing local teens to the granite spires of the Bugaboos and to the Canadian Rockies' highest peak, Mt Robson. We'll also get to know some of Kain's contemporaries, such as Albert MacCarthy, who Kain taught how to climb, and who went on to lead the first ascent of Mt Logan, Canada's highest.
Visit the Conrad Kain Centennial Society website.
Wetlands, Waterways and Overlooks in the Columbia Valley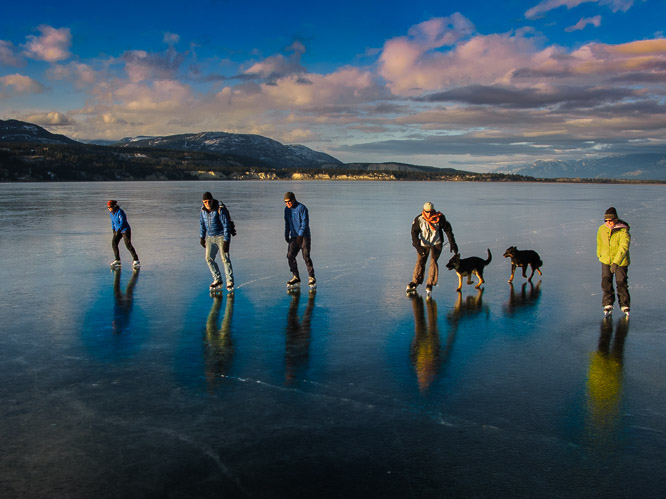 This multimedia show, created for Invermere's "Wings Over the Rockies Festival", gives a four season look at photographer Pat Morrow's big back yard, from close up encounters with river otters and birds of prey to hikes and scrambles to the tops of peaks on either side of the Rocky Mountain Trench that offer goat's eye views of the Purcells and Rockies.
Antarctica
In order for Pat Morrow to complete his Seven Summits Quest in 1985, he needed to reach Antarctica's highest mountain, Vinson Massif. He'll describe the challenges of how, with a handful of mountain and adventure travel guide friends, he formed the travel logistics company Adventure Network International.
He'll give a brief overview of classic exploration beginning with Scott and Amundsen, and the ongoing evolution of high-end adventure climbs and ski journeys on the icy continent. On a personal level, Pat will show stills and video footage that he shot during the first several seasons of operation as he "migrated" from Canadian winter to Antarctic summer, covering a range of climbing and overland ski expeditions and remote tourist destinations that ANI provided access to, and still does.
Adventure Skiing Around the World
In 1981, Pat Morrow set the world altitude record for telemark skiing when he cranked breathless turns off the top of 7,500m Muztagata in the Pamir range, Xinjiang region of China. At this stage in his adventure career, he had already climbed three high peaks, using skis on two of them. He would go on to use skis on eight more high peaks, and on dozens more exploratory tours in exotic mountain locations, from snorkling through the chest-deep yuki in the Tokachi range on Japan's Hokkaido island, the steely-ice slopes of Kamchatka's highest volcanoes in Russia, using penguins as ski gates on Antarctica's King George Island, making a first ski descent of a 4000m peak just hours from downtown Santiago, Chile, and many other prime skiing locations around the globe..
This A/V show reflects Pat's passion for skiing at any altitude or latitude, and opens audiences' eyes to the potential for seeking out and savouring ski turns all over our small blue planet.
40 years of Adventure Photography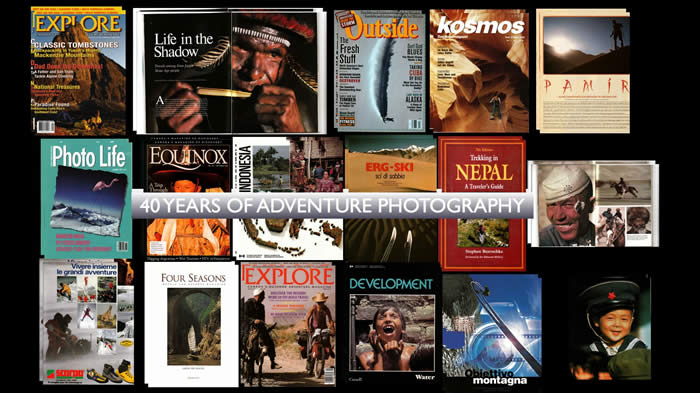 Lynn Martel's introduction to the Alpine Club of Canada's booklet Focused on Adventure does a good job of summing up Pat's professional photographer's life, and the content of this show.
"Pat Morrow's story is so much more than the photos he took, the expeditions he embarked upon, the stories he's told in books and magazine articles and films in partnership with his wife, Baiba. And it's so much more than his legacy of being the second Canadian to stand on the summit of Everest as a member of our nation's first successful Everest expedition in 1982, or his being the first person to have completed the Seven Summits project in 1986."
"Pat's story is interwoven with the good fortune of having shared relationships with some remarkable people and how he embraced their lessons not just to achieve success in his career, but to exhibit humility, generosity and gratitude in all aspects of his life through his unique, sensitive, respectful and revealing perspective."
Heart of the Himalaya – Multimedia eBook, downloadable to the iPad or Mac
See it at Bungalo Books.
Shop for it at iTunes.
For the past three decades, we have been inexorably drawn to the ancient mountain people at the heart and on the fringes of the lofty Tibetan Plateau. The enduring spirit of Tibetan Buddhists, marked by a reverence for nature and passivity, has gained a toehold wherever we have wandered. The Tibetans' robust culture was forged in their vertiginous landscape and we have visited them often for respite from the frenetic pace of western society. During those travels, we also discovered the rich diversity of the region's other cultures, from Shimshali shepherds in the Karakoram range of northern Pakistan to Lepcha farmers in the lush foothills of Mt Kanchenjunga.
In 2014, Banff's Whyte Museum of the Canadian Rockies invited us to assemble an exhibit of our Himalayan imagery. This multi-touch "coffee tablet" ebook grew out of that exhibit. Focusing more on photos than on the written word, it is part personal photo album, part exposition and part celebration interspersed with random bits of diary entries and passages borrowed from books and magazine articles we have written on the topic.
With these photographs, we share our wonder and admiration of the people who live at the heart of the Himalaya.
170 photos, three video clips, including "Hockey Night In Ladakh", an audience favourite on the Banff Mountain Film Festival World Tour in 2005-2006.
Everest: High Expectations – Multimedia eBook, downloadable to the iPad or Mac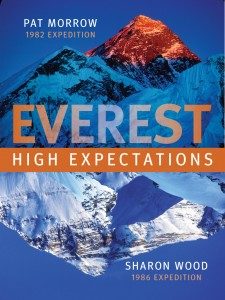 Our first multi-touch ebook for the iPad is Everest: High Expectations by Pat Morrow and Sharon Wood.
See it at Bungalo Books.
Link to Everest: High Expectations on iTunes here to download a FREE preview or purchase the book for use on your Apple iPad.
This richly illustrated adventure ebook (for the iPad only) tells the gripping story of two Canadian climbing expeditions that captured the attention of the mountaineering world in 1982 and 1986 – written by two climbers who reached Everest's summit in distinctly different ways.
Only $9.99 for one of the best illustrated iBooks of the year. Available only on the Apple iPad. The iPad's hi-res retina display brings the photographs alive.
Combining a powerful yet intimately told story with 150 colour photos, maps, archival video and audio recordings, "Everest: High Expectations" sets a new standard for illustrated books as it chronicles both Canadian expeditions' quest to put a new route up the world's highest peak. This is one of the world's first major ebooks developed exclusively for the iPad, using Apple's new iBook Author software.
In 1982, a team of Canada's best climbers confidently trekked to Everest through Nepal's post monsoon rains. Within a month, four people were dead and half the climbers had returned home. The much-diminished team salvaged the expedition by putting six climbers on the summit via the traditional South Col route but its mission was incomplete.
Four years later, a second team returned to make mountaineering history. Not only did the 1986 Canadian Everest Light Expedition establish a new route on Everest without Sherpa support, but it also put the first North American woman on top. Despite several subsequent attempts, that route (via Tibet) has never been repeated.
Packed with 50,000 words, 140 hi-resolution photographs, slide shows, archival video and audio clips, maps and resources, all in 142 pages. The Apple iPad brings them to life. Find your link to the book on iTunes here.
This book, co-written by international adventure photojournalist Pat Morrow and alpine guide Sharon Wood, provides a fascinating insiders' look at an era when climbing with style was more important than "peak bagging" and Everest was only approached after a long mountain-climbing apprenticeship.
"High Expectations" delivers classic high-altitude drama – a near miss in a massive avalanche, speedy alpine-style ascents from the South Col to summit, a risky nighttime descent of the Hornbein Couloir, a fiery gas explosion in a tent and weeks battling jet stream winds in an atmosphere starved of oxygen.
Optimized for Apple's high definition retina display on its new generation of iPads.
Both authors make candid observations on how their lives were affected by the Everest experience and offer frank assessments of the change in attitude today toward Everest and climbing standards.
This multimedia Everest book marks the 30th anniversary of Morrow's summit. It is truly a classic.
(Follow this link to buy "Everest: High Expectations" for your iPad on iTunes – or preview it for FREE.)
Read Sharon and Pat's assessment of their climbs in this 2012 interview in The Globe and Mail here. They talk about how different things have become now that commercial expeditions have access to Everest and inexperienced, untrained adventure tourists can buy their way onto the peak.
Listen to the recent Vancouver Sun interview with Pat here. It's excellent!
Visit Pat Morrow on Facebook here.
Published books – shipping info at bottom of page.
Footsteps in the Clouds – Kangchenjunga a Century Later
Raincoast Books, 154 pages, 47 colour photos, 9 historic Sella b&w photos, reinforced soft cover. ISBN 1-55192-226-6. $28.95 US/CDN.
Hey, guess what? There are other mountains besides Everest!
A hundred years ago, British climber Douglas Freshfield and Italian mountain photographer Vittorio Sella became the first Europeans to circumambulate an 8000 meter peak. In seven weeks, they trekked around Mt Kangchenjunja, the third highest mountain in the world. A century later, Pat and Baiba set out to trace their footsteps and explore the hidden corners of Sikkim and eastern Nepal. To add some mountaineering interest, they attempted to climb the lovely 6887m peak, Mt Siniolchu.
Finalist at the 1999 Banff Mountain Book Festival
Beyond Everest – Quest For the Seven Summits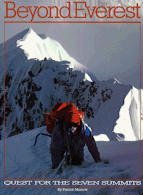 Camden House, 175 pgs, 125 colour photos, soft cover, ISBN O-920656-46-3. $42.00 US/CDN
Describes Pat's global climbing spree, and the pain-staking logistics that went into climbing the highest peak on all seven continents. Useful information in text, captions and route maps for those who want to climb all Seven Summits themselves.
Adventures in Photography
Hurtig, 176 pgs, 88 colour photos, soft cover, ISBN 0-88830-323-8. $19.95 US/CDN
A collaboration of four Canadian photographers: Pat Morrow, Janis Kraulis, Greg Stott, and Ron Watts. A collection of our favourite adventure-related photos and extensive anecdotal text on the philosophical and technical considerations that went into taking those photos. The photos range from a frosty shot of Sir Edmund Hillary toasting Neil Armstrong at the North Pole to a star-streaked time exposure of Ayers Rock.
Himalayan Passage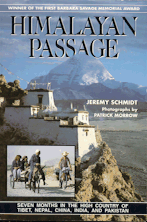 Seven Months in the High Country of Tibet, Nepal, China, India and Pakistan.The Mountaineers, 336 pgs, 50 colour photos, soft cover, ISBN 0-89886-343-0; hard cover ISBN 0-89886-262-0.
Soft cover $23.75 US/CDN; Hard cover $32.15 US/CDN
by Jeremy Schmidt, photographs by Pat Morrow. This tale follows 4 friends on a 10,000 km epic journey in 1987 on bike, truck and foot around the Himalayas. Lots of great ideas for planning your own visit to this area.
Winner of The Mountaineers' First Barbara Savage/Miles From Nowhere Memorial Award.
Expeditions
— To the summit of the highest peak on each of the seven continents
— Landscape scenics
— Mountain culture
— Generic climbing, hiking and skiing shots.
Asia
— Mt.Everest from both sides, Nepal and Tibet
— Mt Muztaghata, western China
— Mt. Siniolchu, Sikkim Himalaya, India
— Mt Shishapangma, Tibet
— Mt Jambalang, Sichuan Province, China
Africa
— Mt. Kilimanjaro in Tanzania
N. America
— Mt. McKinley/Denali in Alaska x 2
— Mt. Logan x2  & Mt. Steele in Canada
S. America
— Mt. Aconcagua in Argentina
Europe
— Mt. Elbrus in Georgia
Australasia
— Carstensz Pyramid x 3 in Irian Jaya, Indonesia
Antarctica
— Vinson Massif x 2
Canada
Climbing
— Rock, snow, ice (frozen waterfalls), alpine — in Alberta, B.C., NWT and Yukon; Ascents of Mt. Logan and Mt. Steele in St. Elias Mtns, Yukon
Cycling
— 450 mile, l0-day wilderness trip down Yukon's Dempster Highway, through the Ogilvie and Richardson Mountains, across the Arctic Circle.
Hiking/Camping Alberta, British Columbia and Yukon
— Rocky Mountains and Banff National Park/Alberta; Pacific Rim National Park (52 miles of rugged beach walking on Vancouver Island)/ B.C.; St. Elias Mtns. in Kluane National Park and Tombstone Mtns/Yukon
— Heli-hiking with Canadian Mountain Holidays in Purcell Mtns/B.C.
Sea kayaking in British Columbia
— The Queen Charlotte Islands (Gwaii Haanas National Park Reserve) ;
— Across Atlin Lake on the edge of the St. Elias Mtns.
Skiing
— Heliskiing in B.C.: Cariboo, Purcell, Selkirk and Monashee ranges
— Hut-to-hut tours and backcountry lodges in B.C.– Ptarmigan Tours; Mistaya Lodge; Purcell Lodge; Wells Gray Chalets; Golden Alpine Holidays; Valhalla Mountain Touring.
— Ski resorts: B.C. & Alberta
— Lake Louise, Fernie Snow Valley
— Wilderness skiing: Alberta Rockies, B.C. and Yukon
— 14-day traverse of Homathko Icefield (story package): Coast Mountain Range of B.C., including telemark descents of various peaks; camp scenes; glacier mountain scenics of B.C.'s second highest peak, Mt. Waddington.
— Ski traverse of historic Chilkoot Pass, Yukon to Alaska
— Circumski of Yukon's Mt. Logan, St. Elias Mtns: l40-mile, l2-day ski in St. Elias Icefields, the largest ice cap outside polar regions
— Circumski of Yukon's Tombstone Range…70 miles in subarctic conditions, around jagged granite spires
— Ellesmere Island, N.W.T., Canadian Arctic and geographic North Pole. Flight to the north pole in twin otters with celebrities Sir Edmund Hillary and astronaut Neil Armstrong, followed by a ski ascent of a peak at Tanquary Fjord in -50 C temperatures. Cover Outside mag.
Outside , Nov 1998
Canoeing and Rafting Yukon's Rivers
— Tatshenshini River 12-day raft trip through spectacular St. Elias Mtns, from B.C. into Alaska near Glacier Bay. Hiking, campfire scenes, with shimmering Mt. Fairweather (B.C.'s highest peak) in background at dusk.
— Alsek River 12-day raft trip to Glacier Bay; hike up on Goatherd Mtn along the way, with view of icebergs on Lowell Lake
— Peel River 350-mile canoe trip in Yukon and NWT
— Firth River, Ivvavik National Park (story package): l0-day raft trip through the migration of the Porcupine Caribou herd in the British Mtns; all the way to Hershel Island Territorial Park on the Beaufort Sea
— Snake River (story package): 11-day canoe trip through the MacKenzie Mtns, on the border with NWT; beautiful campsites and hiking every day
Yukon Territory
— Scenics plus lifestyle stories: gold rush– past and present; homesteading; sea kayaking on Atlin Lake; First Nations' salmon fishing camp; historic Dawson City and Diamond Tooth Gertie's; Fort Selkirk on the Yukon River; St. Elias Mountains; aerials; Kluane National Park; Dempster highway; bicycling the Dempster; Richardson and Ogilvie mountains; Alaska Highway; Porcupine Caribou herd migration on Porcupine River and
Firth River, Ivvavik National Park.
— Mt. Logan (story package): two ascents of Canada's highest mountain, via King Trench Route. One was a scientific expedition to remeasure height of the mountain with Global Positioning System instruments.
— Mt Steele (story package): 1995 commemorative climb of the peak named after Sam Steele, the Royal Canadian Mounted Policeman who brought law to Klondike Gold Rush in '98.
United States
Arizona and Utah Canyoneering (story package)
— Exploring the sublime desert landscape through convoluted sandstone slots, including Grand Canyon, Grand Gulch, Escalante, Kanab, Monument Valley; Anasazi ruins.
Alaska
— Denali National Park, ascent of Mt. McKinley/Denali

Africa
TANZANIA
— Kilimanjaro National Park climb of Mt. Kilimanjaro (story package); Big game in Tanzanian parks: Tarangire, Ngorongoro, and Lk. Manyara. Masai and Chagga people in Moshi and Arusha.
GHANA
— Game and wildlife management story: Mole National Park, and Boabeng-Fiemma monkey sanctuary.
— Cities: Accra, Kumasi, Tamale
Antarctica
Mt. Vinson, Ellsworth Mountains (story package)
— Climbing/skiing Antarctica's highest summit, just 600 miles from south pole
South Pole
— U.S. Scott Amundsen Base
Antarctic Peninsula
— wildlife: penguins, seals, sea lions
— Argentine base of Esperanza with families, children, equipment, penguins, seals, climbing/skiing, spectacular glaciers and mountains
— Adelaide Island, British Rothera base, airplanes and skidoos, scenics
— Alexander Island: First tourist group to visit here, and a 7-day storm
— King George Island–various bases, Chilean, Russian, Chinese.
Nepal
— Mt. Everest– summit shots from the top of the world from 1982 Canadian Mount Everest Expedition, South Col Route; Khumbu Icefall.
— Kathmandu street life, temples, markets
— Annapurna to Everest (story package): 90-day, 400 mi. "Super Trek" spanning trekking regions of Annapurna, Manaslu, Ganesh, Langtang, Rolwaling and Khumbu.
— Khumbu Region, Sagarmatha Nat'l Park: Sherpa village life; Mani Rimdu festival at Tengboche Monastery.
— Makalu-Barun National Park:30-day trek up the Arun Valley of eastern Nepal to Mt. Makalu, the world's sixth highest peak.
— Dolpo, Shey Phoksumdo Nat'l Park (story package): 30-day trek past Mts. Annapurna, Dhaulagiri, and Gurja; wondrous Phoksumdo Lake; Tibetan refugee settlement in Dhorpatan
— Mt. Kangchenjunga – third highest peak in the world. A 30-day trek to the north and south base camps, great shots of satellite peaks, including Jannu. Kangchenjunga Conservation Area Project. Villages along the way.

Pakistan
HUNZA
— Spectacular mountain biking down the Karakorum Highway (from Kashgar through the Chinese Pamir Mountains) across 16,000-foot Khunjerab Pass into Hunza. Trekking among the giants of the Karakorum mountains.
BALTISTAN
— K2, Broad Peak, Concordia Glacier; Trek from Hushe past Mt. Masherbrum to Gondogoro. Towns of Karimabad, Gilgit, Skardu.
India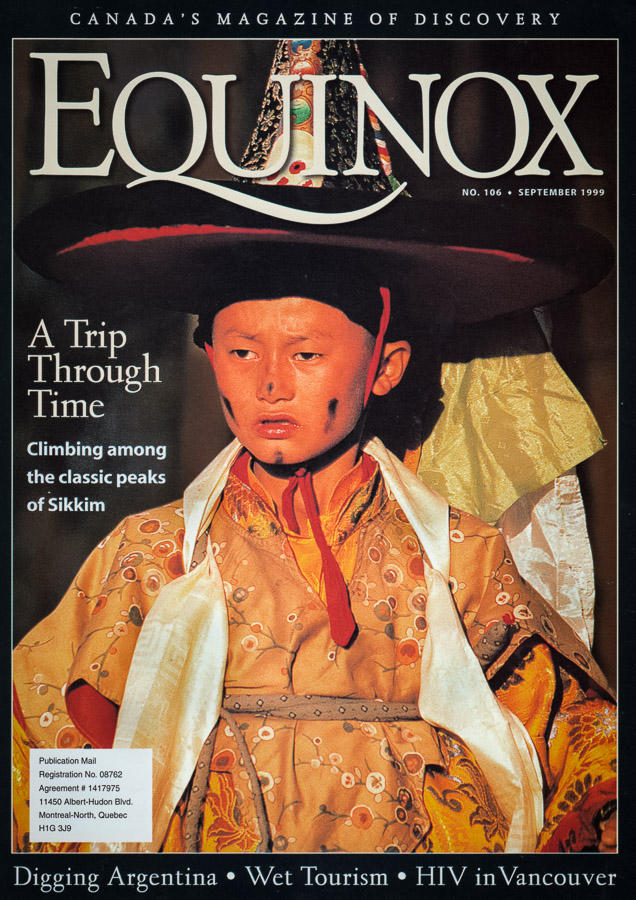 HIMACHAL PRADESH
— Spiti and Kinnaur, recently opened regions southeast of Ladakh. Buddhist monasteries of Spiti; colourful mix of Hindu and Buddhist people in Kinnaur, including the annual "Festival of Flowers" — Dharamsala, home of the Tibetan government-in-exile. Trekking north across the high peaks of the Dhauladhar Range
— Manali and Shimla, mountain towns/hill stations
KASHMIR
— Houseboats on Dal Lake in Srinigar
LADAKH (story package)
— Buddhist culture, monasteries and villages along the Indus Valley; Hemis Festival; Lamayuru Monastery; trekking with horses in Zanskar and the Rupshu area
SIKKIM
–Ttrek from Lachen to Nepal Gap (beneath Kangchenjunga); attempt to climb the lovely Mt Siniolchu; trek to Dzongri on south side of Kangchenjunga in the Kangchenjunga National Park; Kagyat cham (masked) dances at Rumtek Monastery; capital of Gangtok.
UTTAR PRADESH
— Trekking in the Garwhal area near Josimath; Hindu pilgrim destinations of Rishikesh and Badrinath.
WEST BENGAL
— The hill resort of Darjeeling
Tibet
— Mount Everest, original Mallory/Irvine route on North Col; 1991 Canadian "Climb For Hope." Approach from Nepal into Tibet via Friendship Highway; expedition life, scenics, Tibetan yak herders, etc. Rongbuk Monastery.
— Lhasa, the Holy City (story package): monasteries and pilgrims; street life; the changing face of the city; pilgrims during Sagadawa Festival (celebrating the birth, enlightenment and death of Buddha); prayer wheels
— Tsurphu Monastery, seat of the Karmapa; pictures of the 17th Karmapa, Ugyen Trinley Dorje, during 3-day festival in 1997 with unveiling a new thangka and cham dances
— Hiking in Tsangpo River Gorge (Brahmaputra R), Mt Namche Barwa.
— Circumambulation of Mt. Bonri (holy Bon mtn), in Kongpo
— By truck and mountain bike across the Tibetan Plateau and the Chang Tang, into the Kunlun Mountains
— Circumambulation of Mt. Kailas (story package): Asia's holiest mountain for both Buddhists and Hindus
China
BEIJING
— Forbidden City, Great Wall, etc. in 1981
XINGJIANG AUTONOMOUS REGION
— Urumchi, capital city: Uighur minority group, hospital, bazaars Taklamakan Desert
— Kashgar, oasis city on Silk Road, markets, carpet factory, street medicine, Sunday Bazaar
— Kirghiz mountain people, living in Sarikol Valley in the shadow of Mt. Muztagata near borders of Pakistan, Afghanistan and Russia, hay harvesting, yurts, playing buz kashi (rugby on horseback)
— Telemark ski descent from top of 25,000-foot Mt. Muztagata in Pamir mountains
— Sand dune skiing on l,000-foot dunes in Chinese Pamirs
GUANXI PROVINCE
— Guilin, one of China's most popular tourist destinations; limestone spires; caving in the subteranean world of karst formations
YUANNAN PROVINCE
— Cities of Kunming and Dali
SICHUAN PROVINCE
— Chengdu, Muli: sacred Buddhist peaks, Tibetan monastery, pilgrims;
Wolong Panda Preserve: A week spent with a Canadian biologist researching pandas in the wild for World Wildlife Fund.
HUBEI AND HUNAN PROVINCES
— Yangtze River, Three Gorges Dam (story package): 5-day cruise trip from Wushan to Chongqing, past site of Three Gorges Dam at Sandouping; hiking in and exploring the inner gorges, visiting villages that will be drowned by the dam. This story won a silver award for photojournalism in the Canadian National Magazine Awards.
HONG KONG
— City scenes
— 1993 International Dragon Boat Races

Europe, Georgia and Russia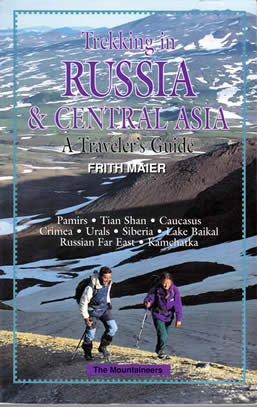 SKIING — telemarking in the Alps at resorts in Austria, Switzerland, and Italy and the Telemark District of southern Norway.
GEORGIA
— Mt. Elbrus, Caucasus Mountains (story package):
— Climb of the mtn; hike into Svanetia near the border of Turkey and Iran. Stone defense towers; villagers and alpine flowers
— Tbilisi, capital city
— culinary practices of Georgians (story package):inside family kitchens between the Black and Caspian Seas
RUSSIA
— Moscow: downtown, Red Square, Sport Hotel '83
— Khabarovsk, Russia's Far East
— Kamchatka Peninsula (story package): climbing active volcanoes, trekking through nature preserves; sea voyage along coast. Eruption of 5000m Mt Klyuchevskaya in '93
— Petropavlovsk
Indonesia
IRIAN JAYA — (story package)
— Stone Age Dani tribe of the central highlands, Baliem Valley; wedding ceremonies and pig feasts that happen only every 5 years; hiking from Wamena between villages and through forests
— Carstensz Pyramid: climb of the highest peak in Australasia
Japan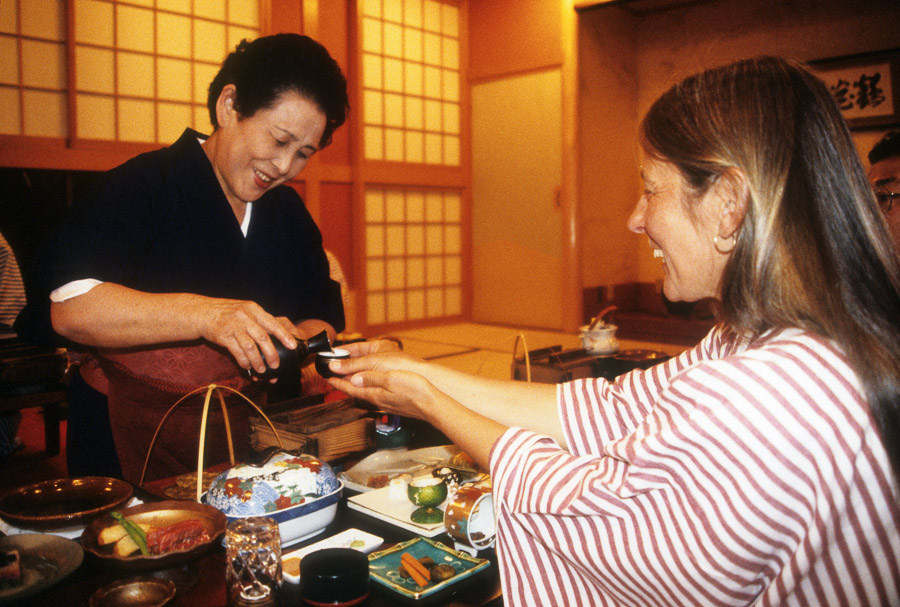 — Traverse of the Japan Alps (story package):
— From the Japan Sea to the Pacific Ocean; climbing Japan's highest 21 peaks over 3000 meters; mountain culture and religion; Mt. Fuji
— Hokkaido (story package): powder skiing; ski ascent of Hokkaido's highest peak, Mt Asahi Dake; winter scenics.
Middle East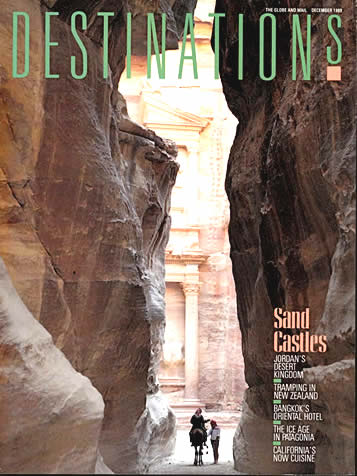 JORDAN
— Ancient Roman city of Jerash; capital city Amman; canyon ruins of Petra; T.E. Lawrence's Wadi Rum desert; having coffee in the tents of bedouins; camels; swimmers floating in the Dead Sea, and the Red Sea.
South America
ARGENTINA
— Rio Negro Prov:Bariloche environs
— Santa Cruz Prov: Fitz Roy and Cerre Torre in Parque Nacional Los Glaciares
BRAZIL
— Rio de Janeiro: Carnaval, beaches, street scenes, hang gliding Gavea Rock, rock climbing in bathing suits
BOLIVIA
— La Paz and Mt. Illimani, Mt. Huayna Potosi
— Ulla Ulla National Park: alpacas and vicunas; Apolabamba Range
— Lake Titicaca and Isla del Sol
CHILE
— Santiago museums, Christmas, street scenes
— Vina del Mar: popular beach resort
— La Serena, Esqui Valley
— Patagonia: Punta Arenas, pampas, aerials southern Andes, Puerto Natales
— Carreterra Austral (Austral highway) in the X Region de Los Lagos and the XI Region de Aisen
— Torres del Paine National Park: wildlife (guanacos), scenics of the spectacular spires, hiking,
— island of Chiloe: mountain biking; fishing and farming villages
— Northern Chile: Atacama Desert, Arica (northernmost city in Chile), San Pedro de Atacama
PERU
— Machu Picchu: Hiking the Inca Trail
— Cusco
The Magic Mountain
a 50-minute documentary
to see a 3 min trailer, click here.
***Winner of the $2,000 People's Choice Award 2005 Banff Mountain Film Festival***
***Winner of Best Canadian Mountain Film 2006 Vancouver Internationl Mountain Film Festival***
***Grand Prize,  2006 Hory a mesto / Mountains and City festival Bratislava, Slovakia***
Official Selection of :
** 2005 Calgary International Film Festival
** 2005 Himalayan Film Festival in Amsterdam
** 2006 Mountain Film, Telluride
** 2006 Kendall Mountain Film
To buy a DVD for home viewing, CONTACT US
$30
(includes postage & handling)
Note: this film is protected by public performance copyright, so please contact us for different pricing to use the film in a teaching or classroom situtation.
---
Synopsis:
Magic means different things to different people. For Cynthia Hunt, the founder of HEALTH Inc (Health, Environment, And Literacy in The Himalayas), it's all about the empowerment of women, good health and nutrition. But these are not easy propositions in Ladakh – one of the highest and driest inhabited places on earth. Yet Cynthia is in her element as she routinely hikes through the rugged mountains of northwest India to help foster change in isolated communities. As a passionate artist, book publisher and educator with a decidedly idiosyncratic style, she helps the illiterate village women in their efforts to form a cooperative. The pay-off comes when they undertake a perilous, four-day journey down a frozen river canyon to petition government officials in the distant capital city for funds to build green houses.
---
It is mid-winter in the oxygen-starved landscape of Ladakh as Cynthia Hunt embarks on a journey unlike any other. In order to reach the remote village of Lingshed, she must trek for four days following an ancient route called the Chador.  This icy conduit on the frozen Zanskar River passes through a gorge deeper than the Grand Canyon, bordered by snow clad 6,000-meter peaks.
Chances of a plunge into the steel blue, fast flowing river are considerable. Yet Cynthia is undeterred. This grueling and unconventional commute to work is part of the job, and she loves it.
This 49-year old American woman, dressed in the traditional shalwar khameez with an incongruous and tattered Montreal Canadiens baseball cap pulled down over long braids, is no stranger to these parts. She has lived and worked in this isolated region of India for 15 years. Her singular devotion to help Ladakhis face the integrative challenges of a modern world approaches missionary zeal.
We follow Cynthia, accompanied by her two Ladakhi interns, as she hikes over a series of 5000-meter passes to reach the remote villages where government agencies and NGOs rarely go. This is where help is needed the most – where infant mortality rates are up to twice the Indian average and where womens' illiteracy is 97-100%. Through grass roots projects such as solar schools, greenhouses, women's cooperatives and books that she draws and publishes herself, Cynthia attempts to make a difference.
But it's not easy – especially being a book publisher in Ladakh. Plagued by constant power outages and sub-zero winter temperatures, she works doggedly into the nights in her unheated tiny office-cum-bedroom in the rustic capital of Leh.
Her latest book, Padma and the Magic Mountain, espouses the benefits of a magical mountain composed of local nutritious foods. The message is unequivocal. "If kids have empty stomachs, how can they concentrate and learn in school?" asks Cynthia.
As Cynthia climbs the steep trail from the frozen Zanskar up to Lingshed, she carries in her backpack a copy of Padma and the Magic Mountain. Not content to merely deliver the book to the school, she invents a rollicking drama in the primitive classroom.
Whether instructing monks in the local monastery on the basics of dental hygiene with a lively lesson on the use of tooth brushes, or acting out the antics of Padma, Cynthia's delivery is nothing less than dramatic – and often hilarious.
Besides the school kids, the women of Lingshed are also inspired by Cynthia's efforts. Their feisty ring leader is Rinchen Dolma, a toothless and illiterate 56-year old grandmother. With Cynthia's voluble endorsement, the village women want to establish a cooperative so they can generate their own source of income. By constructing simple solar greenhouses they can grow vegetables to boost the nutrition and health of their children.
The culmination of the film comes when Cynthia returns to Leh with a gaggle of boisterous village women, including Rinchen Dolma and two Buddhist nuns. The conditions on the Chador have deteriorated, and the group faces considerable risk. They must wade through shin-deep frigid water that has flooded over the ice, and in some places, they climb up on the cliff sides to skirt the open sections of water. But the excitement of travelling to the capital city supercedes their fear.
In total, 30 women from four different villages meet up in Leh and, under Cynthia's wing, learn to negotiate the urban maze. In spite of the stigma of being illiterate village women, their self-confidence grows over a 10-day period of workshops and government meetings. They learn the ropes of creating small businesses and building a solar greenhouse. Their joy is palpable as their celebrate their success with dancing and singing with Cynthia in their midst. In spite of this, two of the villages end up with very different results.
Project Status:
Following the film's success at the 2005 Banff Mountain Film Festival, we are looking for a broadcaster who shares our vision, and will bring this to story to a broader public audience.
The Yukon
Firefly, 128 pgs, 125 colour photos, reinforced soft cover, ISBN 1-55209-108-2. $24.95 US/CDN.
Published in 1997 to commemorate the centennial of the Klondike Gold Rush, this book offers a pictorial celebration of Canada's northern wilderness and the people who live there. Good coverage of Yukon's diverse regions: from the lofty summit of Canada's highest peak, Mt. Logan, to several rivers, including the Tatshenshini, Alsek, Snake and Firth, to favourite tourist destinations like Dawson City and Kluane Lake. Finalist in the 1997 Banff Mountain Book Festival.
In a survey released by the Canadian Bookseller's Association September 1, 1999, this book was at the top of the Canadian Bestseller's List, and remained in the top 5 for several weeks.
Ordering Information:
Payment must be by certified cheque or money order made out to Morrow Productions and should include the appropriate Shipping and Handling charges, as per below. For those ordering from outside Canada, payment must be in US funds. Payment must be received before the order is filled. Please include your name, address, and telephone number with your order. If you'd like a special inscription in any of the books, please include that request with your order. Charges per book for postage and handling: If you are ordering more than one book, please contact us for the appropriate postage charges. All books will be mailed through Canada Post unless otherwise specified.
Canada:
regular mail $9.00 CDN
air mail $9.00 CDN
United States:
regular mail $8.00 USD
air mail  $9.50 USD
International:
regular mail $9.00 USD
airmail  $20.00 USD
NOTE: Both the Beyond Everest and Adventures in Photography are now out of print, so you are tapping into the books' last supply.
2014
Medicine on the Roof of the World, the 5 min promo video that Pat shot for Bill Hanlon/Basic Health International last year in the Karakorum range has been posted on his site.
While on the site, take a look through some of Bill's work with remote communities in other mountain ranges and consider tossing some coin his way to help improve the quality of health care for our fellow mountain dwellers. He's currently (Sept/2015) back in Afghanistan and the Hunza Valley following up on last year's programs. The upper Hunza got hit hard a couple weeks ago by torrential monsoon rains and some of the trails and roads that you'll see in the video have been washed away. Knowing Bill, he's probably set aside his stethoscope to join the shovel brigade.
2012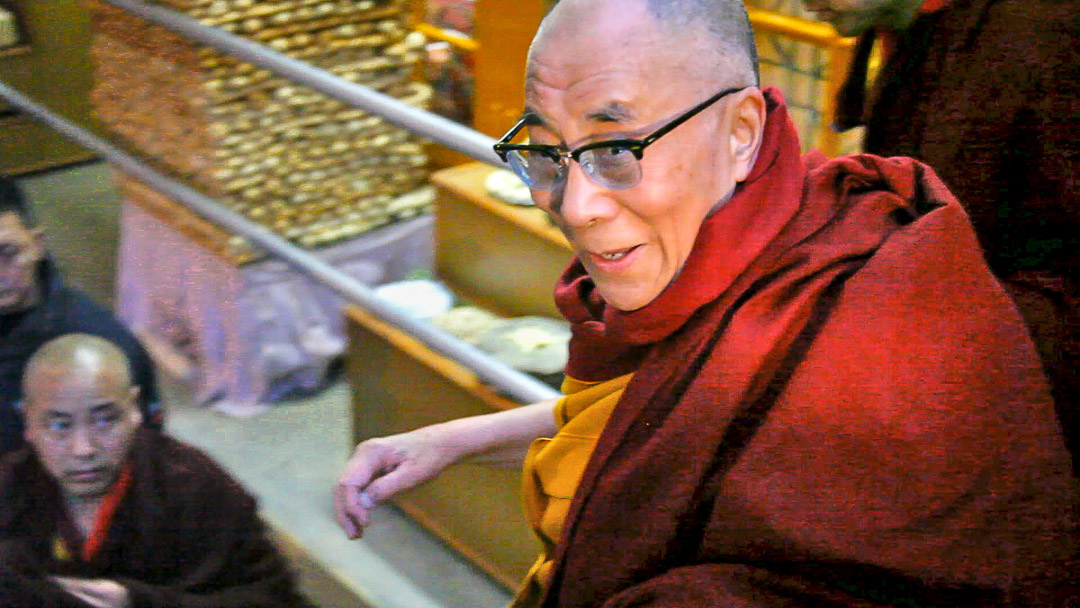 – February DOP and producer (Pat & Baiba) of an info doc, 1000 Tibetans, for Project Tibet Society, an offshoot of the Canada Tibet Committee. Nima Dorjee, who is the host in the film, presented it at the 6th World Parliamentarian's Convention on Tibet, April 23 in Ottawa. He wrote, "Just played it in front of 7000 people! People loved it"!
2011
– Sept. DOP on a film, Cowboys and Carnivores, for Alberta Ecotrust, in the foothills of the Rockies near Waterton National Park.
– August. camera operator filming extreme telephoto and aerials of climbers on Mt Robson and Edith Cavell in the Canadian Rockies, for a series called Great Summits of the World, for NHK (Japan Broadcasting Corporation)
– July DOP on an exceedingly short promo film shot in the Purcell mountains for Kicking Horse Coffee, to be used for the Banff Mountain Film Festival's world tour.
2010
– Dec. camera operator on an ice climbing shoot in Canadian Rockies, (4 days @ -20C!) with ice climbing star Will Gadd, and German movie star, Jessica Schwarz, for Celebs Go Extreme series, Red Bull Europe.
– film release – camera operator on award-winning documentary A Life Ascending shot in Selkirk Mountains of British Columbia over the winters of 2007 and 2008, about the professional and family life of ski and mountain guide Ruedi Beglinger, for producer Stephen Grynberg, Los Angeles. This film won three, count 'em, three awards at the 2010 Banff Mountain Film Festival and has scooped awards at four other festivals this year.
– stock footage from expedition in China's Kunlun mountains, of biologist George Schaller's trek to find the birthing ground of the Tibetan antelope, used in a film called "Nature's Greatest Defender", aired on National Geographic channel.
2009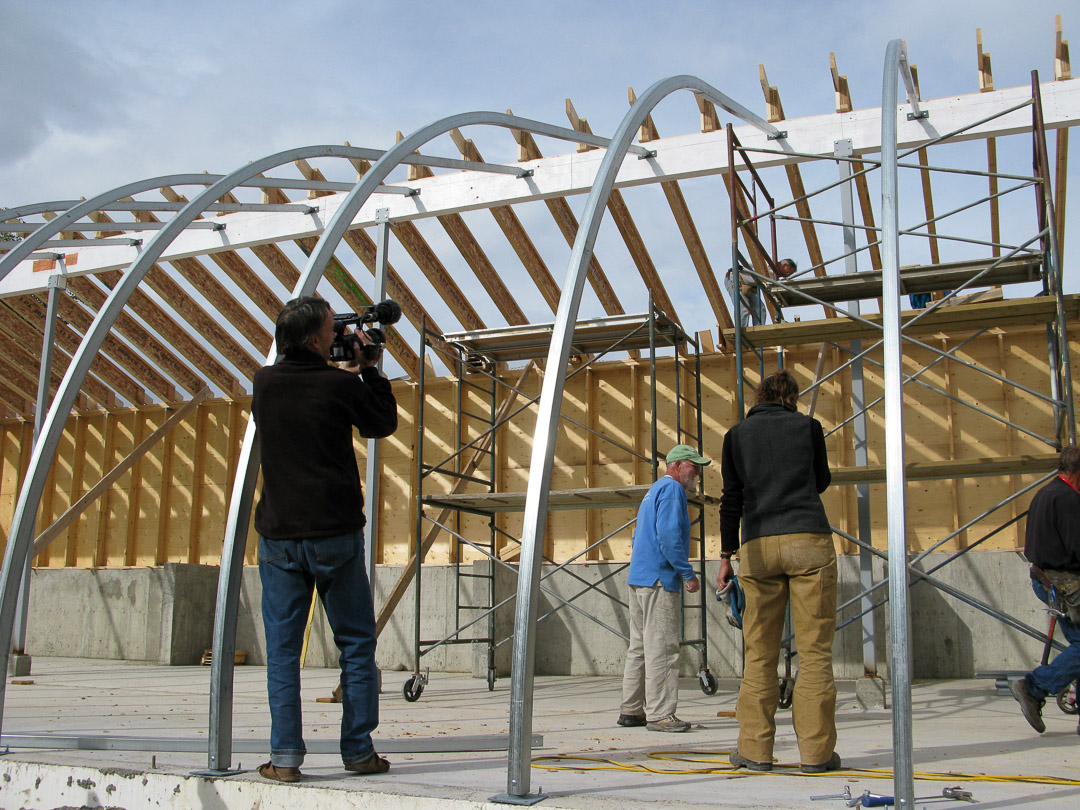 – Aug. camera operator (HDV) on a film called Flathead Wild, about the International League of Conservation Photographers RAVE (Rapid Assessment Visual Expedition) action for B.C.'s Flathead River Valley.
– DOP (HDV), a short film on the construction and implementaion of the high tech Invermere Community Greenhouse for the Columbia Valley Botanical Gardens and Center for Sustainable Living, Invermere, BC.
2007
Sept – DOP (HDV) on a 10 min "making of" film for a BBC "Nature's Great Events" series doc, The Great Salmon Run, for River Road productions, Canada.
July-Oct – camera operator (HD & HDV) on 4 part series of interpretive films in Kananaskis Country Parks (Alberta), for Skylight Pictures skylightpictures@gmail.com
April camera operator on "The Sweetest Embrace", shooting pickup scenes in Canadian Rockies, and interviews in Calgary for an NFB documentary about lost boys of Afghanistan.
2006
– Dec dop, producer, writer, sound for two promo films, Pennies For Peace, and One School At A Time, about mountaineer Greg Mortenson's NGO, Central Asia Institute's efforts to bring education to the children of the Karakorum and Hindu Kush. Shot on location in Baltistan and Afghanistan.
– Feb/March  production manager (Baiba) on documentary about the Canadian Rockies, shot for German public television. Camera operator, (Pat) on 3 segments for that film.
2005
– DOP/producers/sound/editors (Pat & Baiba), DV, 50-min doc,
– The Magic Mountain Winner, People's Choice Award at 2005 Banff Mountain Film Festival. The breakneck life of artist and educator Cynthia Hunt as she helps to foster change in the remote Himalayan region of Ladakh, in India.
– July  camera & sound operators (Pat & Baiba) HD, for Les Productions Ivresse des Sommets inc. (Winnipeg). Climbing sequence of Everest Summitteers Laurie Skreslet and Sharon Wood on Mt Victoria for a doc about the history of Canadian mountaineering.
– June  camera operator (Pat) HD, Will Gadd climbing Labrador icebergs, in a film called Aweberg! for Redbull/FoxTVSports. Winner, Special Jury Mention, 2006 Banff Mountain Film Festival.
– March  camera operator (Pat) on a monastic dance project in Bhutan, for Honolulu Art Academy
2004
– April camera operator (Pat), shot several Hi Def sequences for the 4-hr documentary series, The Shining Mountains, about the Rocky Mountains for National Geographic and History Channel, working with producer/DOP Guy Clarkson. Pat shot the climbing sequence at the end of this post, on Mt Assiniboine in winter conditions.
2003
– June DOP, producer, sound (Pat & Baiba), DV, Postcards From the Lodge. 23-min. heliskiing promotional film for Banff's Canadian Mountain Holidays.
2002
– May – field producer,sound operator (Baiba), DV, for Summerhill Entertainment and Discovery Travel/USA, segment on Mt. Everest for Earth's Natural Wonders.
–  April – co-DOP, co-producer (Pat), DV, Musashi, 13-min. doc about the first ascent of "Musashi", the world's most difficult mixed climb. Winner, Best Mountaineering Film, 2003 Vancouver International Mountain Film Festival. Finalist at the 2002 Banff Mountain Film Festival and included on the World Tour.
2001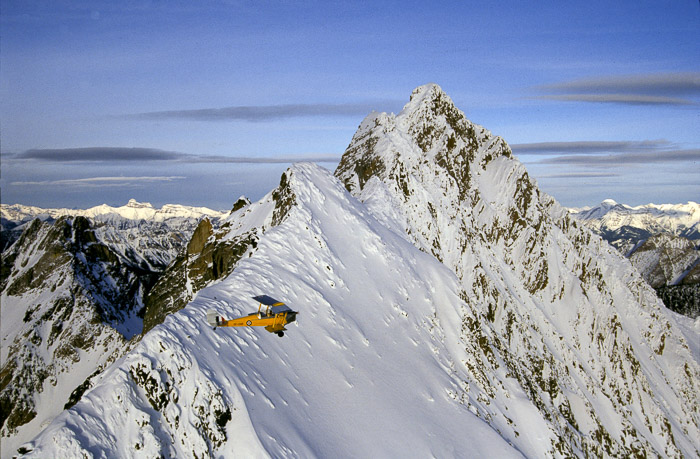 – August – DOP, editor, (Pat), DV, 5-min. doc Sky busting: Over the Rockies, about craftsman and pilot Neil Davidson, builder of vintage aircraft. National Geographic Channel. (thumbnail photo of Neil flying Tiger Moth past Fisher peak © Brian Clarkson)
– April – camera operator (Pat) 16mm & DV, This Is My Life! A 4-min.profile of extreme athlete Will Gadd: (paragliding, ice climbing), for Redbull. Winner, Best Short Film, 2001 Banff Mountain Film Festival.
– Apr – DOP + editor (Pat), DV, Profile of a father/son team of Will and Ben Gadd ski mountaineering in the Canadian Rockies. National Geographic Channel.
– Jan – camera operator (Betacam): FIS World Freestyle Ski Competition at Whistler, BC — stand-up interviews and action coverage for TWI production house, for a two-hour sports special.
2000
– Aug/Sept – DOP (Pat) and sound operator (Baiba), DV, for National Geographic Explorer. Beyond the Lava follows a German photographer and adventurer in the active volcanoes of Russia's Kamchatka Peninsula.
– Apr/May – DOP (Pat), DV, 60-min. documentary, Shishapangma – Ski From the Death Zone, an American/Kazakh ascent of 8000m Mt. Shishapangma in Tibet, for American Adventure Productions. Broadcast on Outdoor Life Network.
1999
– Dec – camera operator/ High Definition Video (Pat) and sound technician (Baiba), on Eco-Challenge for Discovery Channel, Bariloche, Argentina.
– Sept – DOP, 2nd unit (DV) on Heaven's Pass, a film about the Kaska Indians in the northern Rockies of British Columbia.
– July – camera assistant (Arri35) , + large format plate stills, 2nd unit for The Vertical Limit, a Hollywood drama for Columbia TriStar in the Karakorum Range, about K2, in Pakistan.
– Feb/March – camera operator (16mm) on heliski promo film, A Guide's Life, for Canadian Mountain Holidays.
1998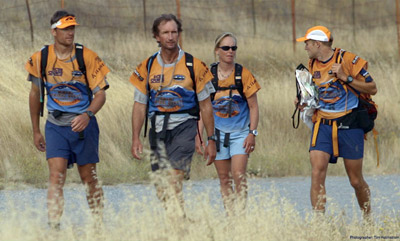 – Oct – camera operator (Betacam, DV) on Eco-Challenge race for Discovery Channel in Atlas Mountains, Morocco.
1997
– Nov/Dec – DOP (Pat), sound/production asst (Baiba), DV – a corporate video for Canadian International Development Agency – "success stories" of Canada's foreign aid projects in Bolivia.
– Sept – camera operator (betacam), "Survival of the Fittest"; Coast Range near Whistler, British Columbia. Aired on ESPN in 1998.
– Sept – DOP, 5- min. introductory climbing video (DV) for Canadian Mountain Holidays, shot in the Bugaboo Range of British Columbia.
– Aug – camera operator (Betacam) on Eco-Challenge, Australia, for Discovery Channel.
– Mar/April – DOP (Pat), sound, field producer (Baiba), DV, corporate video for Canadian International Development Agency – "success stories" of Canada's foreign aid projects in Indonesia
1996
– Oct/Nov – camera operator DV, second camera operator Beta SP, sound operator, (Pat) Sacred Peaks of Muli, cultural/climbing adventure documentary in Chinese Himalayas for American Adventure Productions. Broadcast on OLN (US).
1995
– May – DOP (Pat), Hi8 video, Men of Steele, CBC Midday, an historical climb of 5073m Mt. Steele in the Yukon's St. Elias mountains.
1992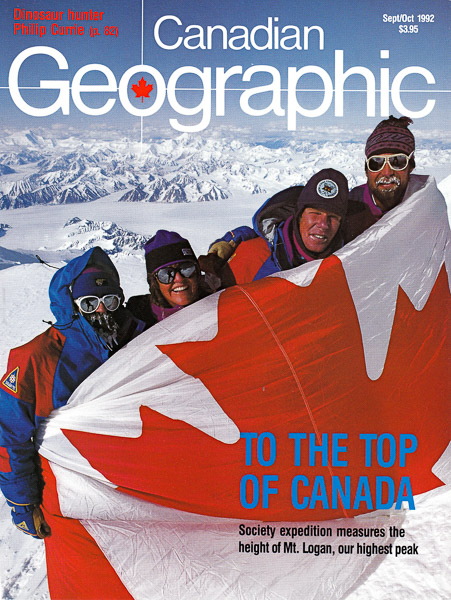 – May /June – DOP (Pat), Hi8, 30-min doc, The Measure of a Mountain, shot on for the Royal Canadian Geographical Society and TV Ontario. An expedition of scientists re-measure the altitude of Canada's highest peak, Mt. Logan (5959 m).
1991
Aug-Oct – 16mm + video camera operator, 60-min documentary, Everest: Climb For Hope, a Canadian team tries to scale the North Col route of Mt Everest. Narrated by Leslie Neilsen. Produced by Yaletown Productions, aired on CTV. Winner Gold Award, 1992 New York International Film Festival.
DOP, producer (Pat), Hi8, 5-min video, Spirit Dancer. Premiere Canadian alpinist Barry Blanchard solo climbs on several waterfall ice climbs in the Canadian Rockies. Included in the Best of the Banff Mountain Film Festival world tour.