Nepal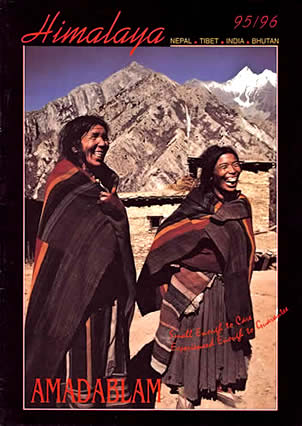 — Mt. Everest– summit shots from the top of the world from 1982 Canadian Mount Everest Expedition, South Col Route; Khumbu Icefall.
— Kathmandu street life, temples, markets
— Annapurna to Everest (story package): 90-day, 400 mi. "Super Trek" spanning trekking regions of Annapurna, Manaslu, Ganesh, Langtang, Rolwaling and Khumbu.
— Khumbu Region, Sagarmatha Nat'l Park: Sherpa village life; Mani Rimdu festival at Tengboche Monastery.
— Makalu-Barun National Park:30-day trek up the Arun Valley of eastern Nepal to Mt. Makalu, the world's sixth highest peak.
— Dolpo, Shey Phoksumdo Nat'l Park (story package): 30-day trek past Mts. Annapurna, Dhaulagiri, and Gurja; wondrous Phoksumdo Lake; Tibetan refugee settlement in Dhorpatan
— Mt. Kangchenjunga – third highest peak in the world. A 30-day trek to the north and south base camps, great shots of satellite peaks, including Jannu. Kangchenjunga Conservation Area Project. Villages along the way.