In Conrad Kain There Was A Splendid Fire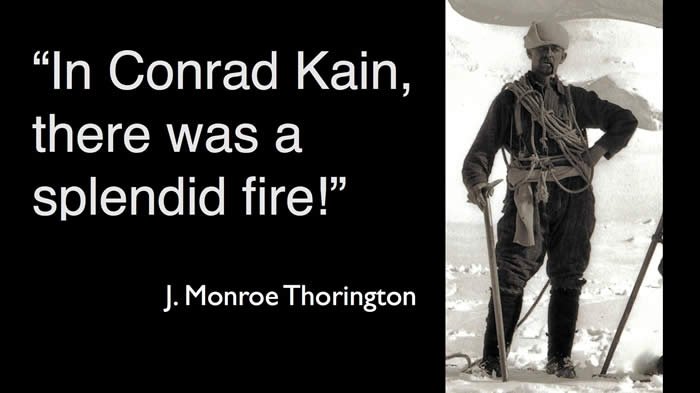 Austrian Conrad Kain served as a guide for nearly 30 years in Europe, Canada and New Zealand, and during that relatively short period, he left a unique and unequalled legacy of mountain exploration and first ascents. In moving through extreme landscape, he displayed a creativity that stands alone not just in the annals of Canadian mountaineering, but in that of the world climbing scene in the early 20th century. Yet, he lived a simple, independent life and always saw himself as a man of nature.
In this A/V show we'll follow in Kain's footsteps up some of his iconic peaks, while introducing local teens to the granite spires of the Bugaboos and to the Canadian Rockies' highest peak, Mt Robson. We'll also get to know some of Kain's contemporaries, such as Albert MacCarthy, who Kain taught how to climb, and who went on to lead the first ascent of Mt Logan, Canada's highest.
Visit the Conrad Kain Centennial Society website.