Expeditions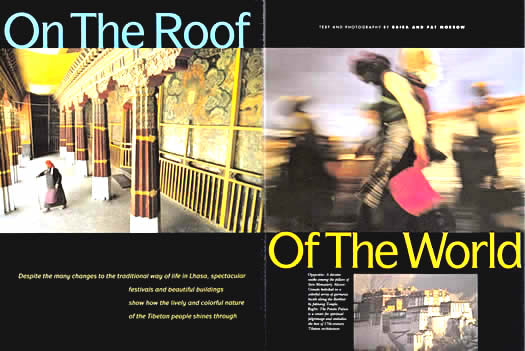 — To the summit of the highest peak on each of the seven continents
— Landscape scenics
— Mountain culture
— Generic climbing, hiking and skiing shots.
Asia
— Mt.Everest from both sides, Nepal and Tibet
— Mt Muztaghata, western China
— Mt. Siniolchu, Sikkim Himalaya, India
— Mt Shishapangma, Tibet
— Mt Jambalang, Sichuan Province, China
Africa
— Mt. Kilimanjaro in Tanzania
N. America
— Mt. McKinley/Denali in Alaska x 2
— Mt. Logan x2  & Mt. Steele in Canada
S. America
— Mt. Aconcagua in Argentina
Europe
— Mt. Elbrus in Georgia
Australasia
— Carstensz Pyramid x 3 in Irian Jaya, Indonesia
Antarctica
— Vinson Massif x 2
Canada
Climbing
— Rock, snow, ice (frozen waterfalls), alpine — in Alberta, B.C., NWT and Yukon; Ascents of Mt. Logan and Mt. Steele in St. Elias Mtns, Yukon
Cycling
— 450 mile, l0-day wilderness trip down Yukon's Dempster Highway, through the Ogilvie and Richardson Mountains, across the Arctic Circle.
Hiking/Camping Alberta, British Columbia and Yukon
— Rocky Mountains and Banff National Park/Alberta; Pacific Rim National Park (52 miles of rugged beach walking on Vancouver Island)/ B.C.; St. Elias Mtns. in Kluane National Park and Tombstone Mtns/Yukon
— Heli-hiking with Canadian Mountain Holidays in Purcell Mtns/B.C.
Sea kayaking in British Columbia
— The Queen Charlotte Islands (Gwaii Haanas National Park Reserve) ;
— Across Atlin Lake on the edge of the St. Elias Mtns.
Skiing
— Heliskiing in B.C.: Cariboo, Purcell, Selkirk and Monashee ranges
— Hut-to-hut tours and backcountry lodges in B.C.– Ptarmigan Tours; Mistaya Lodge; Purcell Lodge; Wells Gray Chalets; Golden Alpine Holidays; Valhalla Mountain Touring.
— Ski resorts: B.C. & Alberta
— Lake Louise, Fernie Snow Valley
— Wilderness skiing: Alberta Rockies, B.C. and Yukon
— 14-day traverse of Homathko Icefield (story package): Coast Mountain Range of B.C., including telemark descents of various peaks; camp scenes; glacier mountain scenics of B.C.'s second highest peak, Mt. Waddington.
— Ski traverse of historic Chilkoot Pass, Yukon to Alaska
— Circumski of Yukon's Mt. Logan, St. Elias Mtns: l40-mile, l2-day ski in St. Elias Icefields, the largest ice cap outside polar regions
— Circumski of Yukon's Tombstone Range…70 miles in subarctic conditions, around jagged granite spires
— Ellesmere Island, N.W.T., Canadian Arctic and geographic North Pole. Flight to the north pole in twin otters with celebrities Sir Edmund Hillary and astronaut Neil Armstrong, followed by a ski ascent of a peak at Tanquary Fjord in -50 C temperatures. Cover Outside mag.
Outside , Nov 1998
Canoeing and Rafting Yukon's Rivers
— Tatshenshini River 12-day raft trip through spectacular St. Elias Mtns, from B.C. into Alaska near Glacier Bay. Hiking, campfire scenes, with shimmering Mt. Fairweather (B.C.'s highest peak) in background at dusk.
— Alsek River 12-day raft trip to Glacier Bay; hike up on Goatherd Mtn along the way, with view of icebergs on Lowell Lake
— Peel River 350-mile canoe trip in Yukon and NWT
— Firth River, Ivvavik National Park (story package): l0-day raft trip through the migration of the Porcupine Caribou herd in the British Mtns; all the way to Hershel Island Territorial Park on the Beaufort Sea
— Snake River (story package): 11-day canoe trip through the MacKenzie Mtns, on the border with NWT; beautiful campsites and hiking every day
Yukon Territory
— Scenics plus lifestyle stories: gold rush– past and present; homesteading; sea kayaking on Atlin Lake; First Nations' salmon fishing camp; historic Dawson City and Diamond Tooth Gertie's; Fort Selkirk on the Yukon River; St. Elias Mountains; aerials; Kluane National Park; Dempster highway; bicycling the Dempster; Richardson and Ogilvie mountains; Alaska Highway; Porcupine Caribou herd migration on Porcupine River and
Firth River, Ivvavik National Park.
— Mt. Logan (story package): two ascents of Canada's highest mountain, via King Trench Route. One was a scientific expedition to remeasure height of the mountain with Global Positioning System instruments.
— Mt Steele (story package): 1995 commemorative climb of the peak named after Sam Steele, the Royal Canadian Mounted Policeman who brought law to Klondike Gold Rush in '98.
United States
Arizona and Utah Canyoneering (story package)
— Exploring the sublime desert landscape through convoluted sandstone slots, including Grand Canyon, Grand Gulch, Escalante, Kanab, Monument Valley; Anasazi ruins.
Alaska
— Denali National Park, ascent of Mt. McKinley/Denali

Africa
TANZANIA
— Kilimanjaro National Park climb of Mt. Kilimanjaro (story package); Big game in Tanzanian parks: Tarangire, Ngorongoro, and Lk. Manyara. Masai and Chagga people in Moshi and Arusha.
GHANA
— Game and wildlife management story: Mole National Park, and Boabeng-Fiemma monkey sanctuary.
— Cities: Accra, Kumasi, Tamale
Antarctica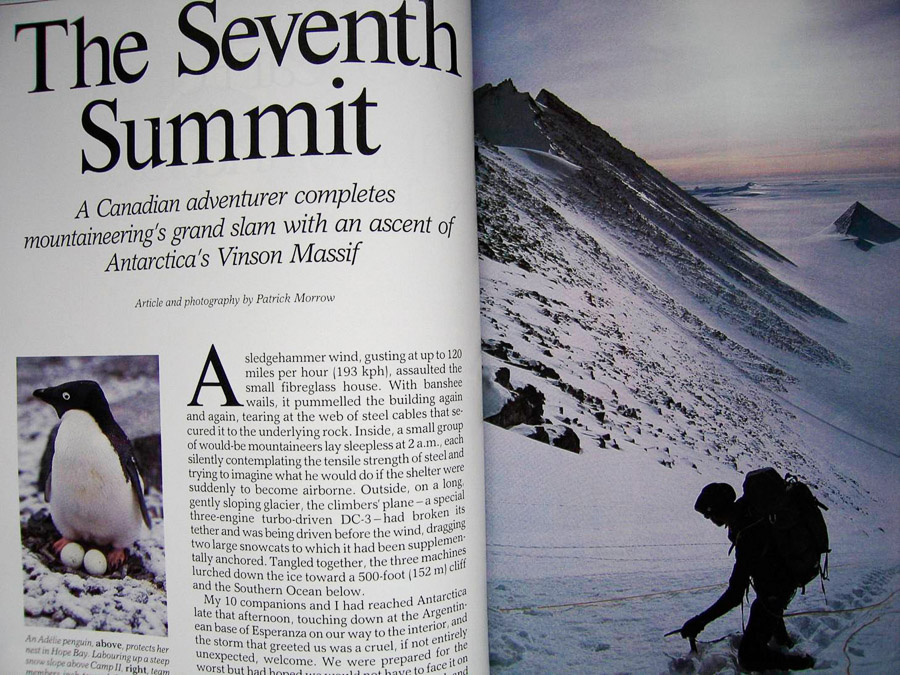 Mt. Vinson, Ellsworth Mountains (story package)
— Climbing/skiing Antarctica's highest summit, just 600 miles from south pole
South Pole
— U.S. Scott Amundsen Base
Antarctic Peninsula
— wildlife: penguins, seals, sea lions
— Argentine base of Esperanza with families, children, equipment, penguins, seals, climbing/skiing, spectacular glaciers and mountains
— Adelaide Island, British Rothera base, airplanes and skidoos, scenics
— Alexander Island: First tourist group to visit here, and a 7-day storm
— King George Island–various bases, Chilean, Russian, Chinese.
Nepal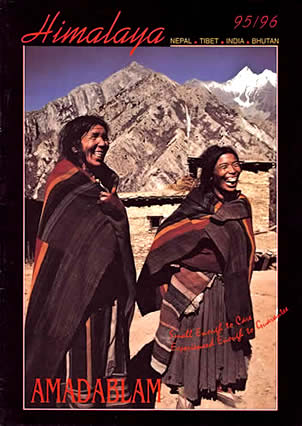 — Mt. Everest– summit shots from the top of the world from 1982 Canadian Mount Everest Expedition, South Col Route; Khumbu Icefall.
— Kathmandu street life, temples, markets
— Annapurna to Everest (story package): 90-day, 400 mi. "Super Trek" spanning trekking regions of Annapurna, Manaslu, Ganesh, Langtang, Rolwaling and Khumbu.
— Khumbu Region, Sagarmatha Nat'l Park: Sherpa village life; Mani Rimdu festival at Tengboche Monastery.
— Makalu-Barun National Park:30-day trek up the Arun Valley of eastern Nepal to Mt. Makalu, the world's sixth highest peak.
— Dolpo, Shey Phoksumdo Nat'l Park (story package): 30-day trek past Mts. Annapurna, Dhaulagiri, and Gurja; wondrous Phoksumdo Lake; Tibetan refugee settlement in Dhorpatan
— Mt. Kangchenjunga – third highest peak in the world. A 30-day trek to the north and south base camps, great shots of satellite peaks, including Jannu. Kangchenjunga Conservation Area Project. Villages along the way.

Pakistan
HUNZA
— Spectacular mountain biking down the Karakorum Highway (from Kashgar through the Chinese Pamir Mountains) across 16,000-foot Khunjerab Pass into Hunza. Trekking among the giants of the Karakorum mountains.
BALTISTAN
— K2, Broad Peak, Concordia Glacier; Trek from Hushe past Mt. Masherbrum to Gondogoro. Towns of Karimabad, Gilgit, Skardu.
India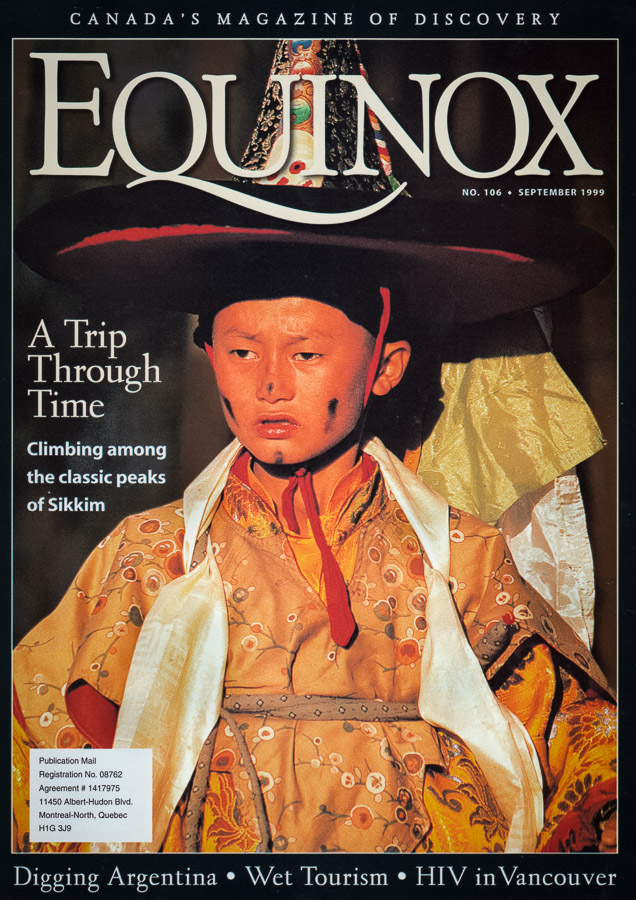 HIMACHAL PRADESH
— Spiti and Kinnaur, recently opened regions southeast of Ladakh. Buddhist monasteries of Spiti; colourful mix of Hindu and Buddhist people in Kinnaur, including the annual "Festival of Flowers" — Dharamsala, home of the Tibetan government-in-exile. Trekking north across the high peaks of the Dhauladhar Range
— Manali and Shimla, mountain towns/hill stations
KASHMIR
— Houseboats on Dal Lake in Srinigar
LADAKH (story package)
— Buddhist culture, monasteries and villages along the Indus Valley; Hemis Festival; Lamayuru Monastery; trekking with horses in Zanskar and the Rupshu area
SIKKIM
–Ttrek from Lachen to Nepal Gap (beneath Kangchenjunga); attempt to climb the lovely Mt Siniolchu; trek to Dzongri on south side of Kangchenjunga in the Kangchenjunga National Park; Kagyat cham (masked) dances at Rumtek Monastery; capital of Gangtok.
UTTAR PRADESH
— Trekking in the Garwhal area near Josimath; Hindu pilgrim destinations of Rishikesh and Badrinath.
WEST BENGAL
— The hill resort of Darjeeling
Tibet
— Mount Everest, original Mallory/Irvine route on North Col; 1991 Canadian "Climb For Hope." Approach from Nepal into Tibet via Friendship Highway; expedition life, scenics, Tibetan yak herders, etc. Rongbuk Monastery.
— Lhasa, the Holy City (story package): monasteries and pilgrims; street life; the changing face of the city; pilgrims during Sagadawa Festival (celebrating the birth, enlightenment and death of Buddha); prayer wheels
— Tsurphu Monastery, seat of the Karmapa; pictures of the 17th Karmapa, Ugyen Trinley Dorje, during 3-day festival in 1997 with unveiling a new thangka and cham dances
— Hiking in Tsangpo River Gorge (Brahmaputra R), Mt Namche Barwa.
— Circumambulation of Mt. Bonri (holy Bon mtn), in Kongpo
— By truck and mountain bike across the Tibetan Plateau and the Chang Tang, into the Kunlun Mountains
— Circumambulation of Mt. Kailas (story package): Asia's holiest mountain for both Buddhists and Hindus
China
BEIJING
— Forbidden City, Great Wall, etc. in 1981
XINGJIANG AUTONOMOUS REGION
— Urumchi, capital city: Uighur minority group, hospital, bazaars Taklamakan Desert
— Kashgar, oasis city on Silk Road, markets, carpet factory, street medicine, Sunday Bazaar
— Kirghiz mountain people, living in Sarikol Valley in the shadow of Mt. Muztagata near borders of Pakistan, Afghanistan and Russia, hay harvesting, yurts, playing buz kashi (rugby on horseback)
— Telemark ski descent from top of 25,000-foot Mt. Muztagata in Pamir mountains
— Sand dune skiing on l,000-foot dunes in Chinese Pamirs
GUANXI PROVINCE
— Guilin, one of China's most popular tourist destinations; limestone spires; caving in the subteranean world of karst formations
YUANNAN PROVINCE
— Cities of Kunming and Dali
SICHUAN PROVINCE
— Chengdu, Muli: sacred Buddhist peaks, Tibetan monastery, pilgrims;
Wolong Panda Preserve: A week spent with a Canadian biologist researching pandas in the wild for World Wildlife Fund.
HUBEI AND HUNAN PROVINCES
— Yangtze River, Three Gorges Dam (story package): 5-day cruise trip from Wushan to Chongqing, past site of Three Gorges Dam at Sandouping; hiking in and exploring the inner gorges, visiting villages that will be drowned by the dam. This story won a silver award for photojournalism in the Canadian National Magazine Awards.
HONG KONG
— City scenes
— 1993 International Dragon Boat Races

Europe, Georgia and Russia
SKIING — telemarking in the Alps at resorts in Austria, Switzerland, and Italy and the Telemark District of southern Norway.
GEORGIA
— Mt. Elbrus, Caucasus Mountains (story package):
— Climb of the mtn; hike into Svanetia near the border of Turkey and Iran. Stone defense towers; villagers and alpine flowers
— Tbilisi, capital city
— culinary practices of Georgians (story package):inside family kitchens between the Black and Caspian Seas
RUSSIA
— Moscow: downtown, Red Square, Sport Hotel '83
— Khabarovsk, Russia's Far East
— Kamchatka Peninsula (story package): climbing active volcanoes, trekking through nature preserves; sea voyage along coast. Eruption of 5000m Mt Klyuchevskaya in '93
— Petropavlovsk
Indonesia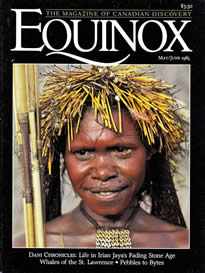 IRIAN JAYA — (story package)
— Stone Age Dani tribe of the central highlands, Baliem Valley; wedding ceremonies and pig feasts that happen only every 5 years; hiking from Wamena between villages and through forests
— Carstensz Pyramid: climb of the highest peak in Australasia
Japan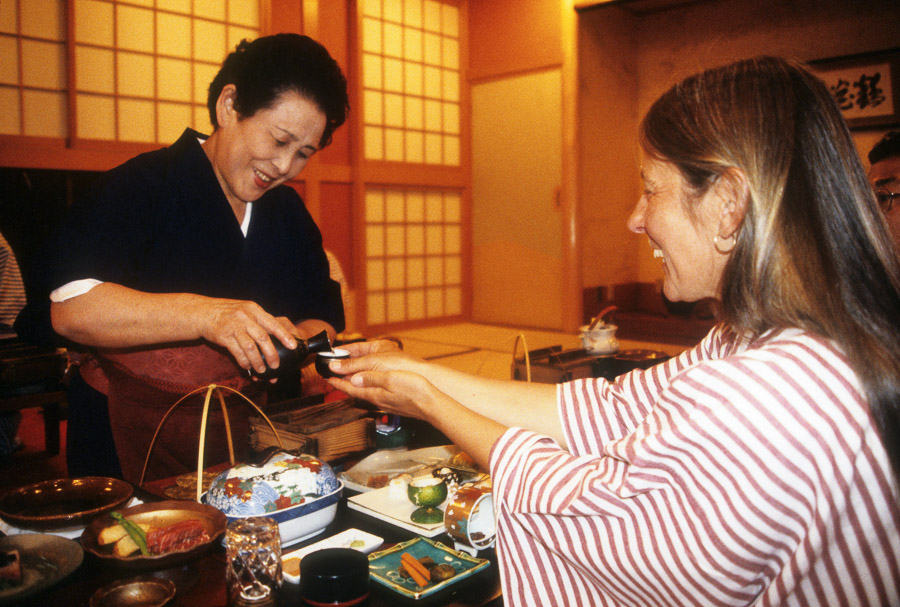 — Traverse of the Japan Alps (story package):
— From the Japan Sea to the Pacific Ocean; climbing Japan's highest 21 peaks over 3000 meters; mountain culture and religion; Mt. Fuji
— Hokkaido (story package): powder skiing; ski ascent of Hokkaido's highest peak, Mt Asahi Dake; winter scenics.
Middle East
JORDAN
— Ancient Roman city of Jerash; capital city Amman; canyon ruins of Petra; T.E. Lawrence's Wadi Rum desert; having coffee in the tents of bedouins; camels; swimmers floating in the Dead Sea, and the Red Sea.
South America
ARGENTINA
— Rio Negro Prov:Bariloche environs
— Santa Cruz Prov: Fitz Roy and Cerre Torre in Parque Nacional Los Glaciares
BRAZIL
— Rio de Janeiro: Carnaval, beaches, street scenes, hang gliding Gavea Rock, rock climbing in bathing suits
BOLIVIA
— La Paz and Mt. Illimani, Mt. Huayna Potosi
— Ulla Ulla National Park: alpacas and vicunas; Apolabamba Range
— Lake Titicaca and Isla del Sol
CHILE
— Santiago museums, Christmas, street scenes
— Vina del Mar: popular beach resort
— La Serena, Esqui Valley
— Patagonia: Punta Arenas, pampas, aerials southern Andes, Puerto Natales
— Carreterra Austral (Austral highway) in the X Region de Los Lagos and the XI Region de Aisen
— Torres del Paine National Park: wildlife (guanacos), scenics of the spectacular spires, hiking,
— island of Chiloe: mountain biking; fishing and farming villages
— Northern Chile: Atacama Desert, Arica (northernmost city in Chile), San Pedro de Atacama
PERU
— Machu Picchu: Hiking the Inca Trail
— Cusco